Keychain

Keychain
Stainless steel engraving plates with bowl ring
magnatic clasp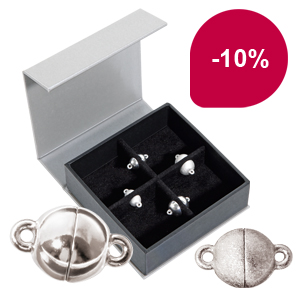 A Magnetic clasp from LANGER is of the highest quality, prevents the chain from breaking and closes virtually by itself using magnetic force. Their easy handling and attractive design make them extremely popular with wearers of all ages. LANGER clasps are manufactured using a patented process and meet the highest quality standards. The powerful POWER magnets in the precious metal sleeves are sealed watertight and thus protected from sweat, moisture and damage.
Content of the assortment is one magnetic clasp each
497065: Ø 6.00mm polished
497066: Ø 6.00mm matt finish
497050: Ø 8,00mm polished
497051: Ø 8,00mm matted
---
Action discount is only valid on 08.12.2022 and only while stocks last.
---