Keychain

Keychain
Stainless steel engraving plates with bowl ring
Zirconia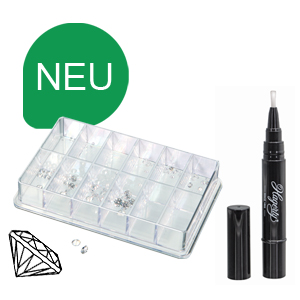 Cubic Zirconia assortment and new: Precious Stones Pencil for free.
The white cubic zirconia (CZ) are becoming more and more important in the field of fashion jewellery. We have therefore prepared an assortment of the most popular cubic zirconias, arranged in a transparent storage box for quick access. Contents 100 pieces in the Ø 1.25, 1.50, 1.75, 2.00, 2.25, 2.50, 2.75, 3.00, 3.50, 4.00mm. Boley No. 491090
NEW: Precious Stones Pencil - Hagerty
The Precious Stones Pencil is easy to use and the perfect jewellery cleaning product for on the go. The cleaning and care solution is applied to the jewellery by twisting the head of the pencil over the integrated brush. This gently removes daily deposits of grease and dirt, even in hard-to-reach places such as on prong settings and around gemstones. Boley No. 507138
Application.
Remove the protective cap
Turn the dosage knob until bubbles appear on the brush
Apply the cleaning solution and spread it evenly with the brush
Rinse and pat dry
Polish with a jewellery polishing cloth
---
Order this assortment of Zirconia today only on 09/12/2022 and receive the Prscious Stone Pencil for free. Only while stocks last.
---