Horotec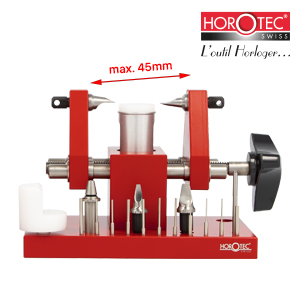 Multifunctional tool - Horotec
Combination tool from Swiss production. Case opener, bezel extractor and bracelet shortening tool, which works extremely precisely thanks to its adjustable height compensation, the precision threaded spindle and a non-slip base on the underside.
Function case opener:
Equip one side with a delrin insert and the other with a suitable knife insert, housing with glass facing down, showing the crown side towards the delrin insert. Then carefully screw on the precision spindle until the blade insert rests on the housing, reposition the blade insert correctly and retighten it a bit. Finished!
Function bezel extractor:
Equip both sides with suitable knife inserts, housing with bezel side facing up. Then carefully turn the precision spindle until the blade inserts touch the bezel ring, reposition the blade inserts correctly and tighten slightly. Finished!
Function bracelet pin extractor:
The cut Delrin insert allows the insertion of bracelets, a matching pin holder is used to hold the ejection punches of 0.40 . 2.00mm. The precision spindle allows the tape pins to be pressed out precisely.
Scope of delivery:
• Multifunction tool - Swiss Made
• 2 hardened blade inserts 2 mm
• 2 hardened blade inserts 4 mm
• 1 pin holder incl. 11 pins (0.40 - 2.00mm)
• 1 delrin support for watch cases
• 1 delrin insert with hole Ø 10 mm
Technical specifications:
Max. opening: 45 mm
Dimensions (L x W x H): 120 x 75 x 85 mm
Weight: 960 g
nameMultifunctional tool
Versioncase back/bezel/bracelet
manufactureHorotec
item No.510250