Special Inserts RX
Pressure Pieces RX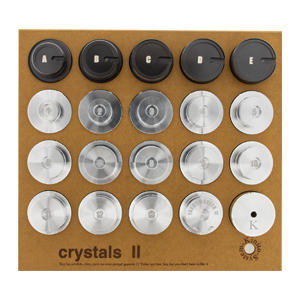 Special Pressure Stakes-Set RX

Special set of pressure stakes to set watch glasses with and without magnifying glass type RX. The original dimensions of the RX watches were measured exactly and taken into account accordingly. The pressure stakes are made of high-quality aluminium AW-7075, a particularly hard aluminium alloy (military quality). With the help of this set of stakes, the lenses of the latest generation of RX watches (with safety ring) can be set with high security and incredible precision.
The newly developed neodymium magnet system avoids the problem of the original RX pressure pieces set with the vacuum pump, where the loss of suction can cause the glass to fall. This innovative system allows the glass to remain in the press indefinitely, while the watchmaker can calmly align the magnifying lens with the crown.
All the stakes mentioned below have an M6 thread and are therefore suitable for all standard case presses.
Scope of delivery:
- 5 pressure stakes, suitable for most RX mineral or sapphire crystals (206mm, 246mm, 286mm, 295mm, 318mm)
- 14 pressure stakes with following internal enclosure Ø (16.93mm, 18.43mm, 22.75mm, 26.43mm, 26.62mm, 26.95mm, 27.49mm, 27.52mm, 27.94mm, 28.63mm, 29.21mm, 29.37mm, 30.59mm, 32.19mm)
- 1 lower mounting adapter for Bergeon and Horotec case closers
- 1 upper mounting adapter for Horotec case closers
- 1 adapter for placing the ring on the seal
- 1 neodymium magnet 9.5 x 3.0mm
- 1 lacquered beech wood base
namePressure Pieces RX
versionAssortment
contents19 pieces
item No.509300