Battery Service
You will receive this shapely street stand in sail form "Energizer flag" free of charge with your battery pack!
battery promotion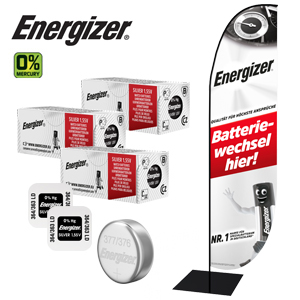 Street display "Energizer - flag"
• Beautifully designed street display in sail form with heavy metal foot.
• The label "Batteriewechsel hier" aronses the customer's attention.

Total hight: 255 cm
Metal foot: 40 x 40 cm

ENERGIZER-Battery composition

100 x Energizer 364/363
50 x Energizer 371/370
120 x Energizer 377/376
10 x Energizer 379
20 x Energizer 395/399
-------------------------------------------------
300 x Energizer Batteries

This promotion is not combinable with other promotions and shall not be counted for the annual Promotion.
| name | manufacture | contents | addition | item No. |
| --- | --- | --- | --- | --- |
| battery promotion | Energizer | 300 pieces | flag | 399229 |