GemLightbox Macro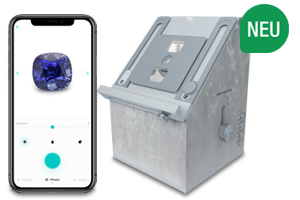 The world's first smartphone light box for loose diamonds and gemstones.

Attention! New product launch and price reduction due to the current weak USD exchange rate.

We are pleased to introduce a new version of the GemLightBox: The Macro version allows you to take photos and videos of loose diamonds and gemstones from 0.1 carats to 50 carats. It allows you to take pictures with 10x magnification with just one click using your own smartphone. Different backgrounds in the colours white, grey and black are available. In addition, the GemLightBox offers four different light colours to ensure the colour accuracy and brilliance of the gemstones.

The current weak USD exchange rate gives us the opportunity to significantly reduce the prices on all GemLightBox items for you in the first quarter of 2021. You can profit from this by passing on this price reduction to you due to the given currency situation. The GemLightBoxes with accessories are your adequate and fitting instrument to attract attention during the lockdown phase and to make your assortment visible to the end consumer. This is the only way to reach a wider audience and stay in the minds of your customers.