Loctite Instant Adhesives

Highly transparent and universally applicable instant adhesive in liquid or gel form.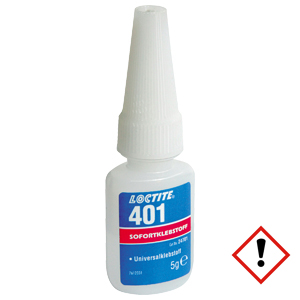 Instant adhesive - Loctite 401 liquid

The highly transparent instant adhesive Loctite 401 is fast curing and universally applicable, also ideal for use on porous surfaces. Fast curing instant adhesive for bonding difficult to bond materials in applications where uniform stress distribution and high tensile or heavy strength are required. Perfect for all quick repairs.??

Properties:
• Universal instant adhesive
• Very high strength with small gaps
• Bonds a wide variety of material joints (metals, rubber, wood, cardboard, ceramics as well as most plastics) with and to each other

Technical data:
Fixture time: 3 - 10 sec.
Service temperature range: -40°C to +120°C
Colour: colourless, transparent
Content: 5 g
nameinstant adhesive
manufactureLoctite 401
versionliquid
Handfest3-10 Sek.
contents5 g
item No.507917