Loctite Instant Adhesives

Highly transparent and universally applicable instant adhesive in liquid or gel form.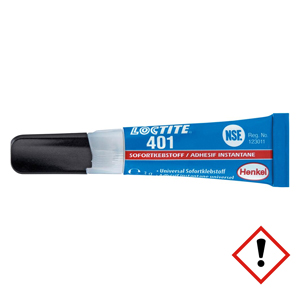 Instant Adhesive - Loctite 454 Gel

Loctite 454 is a general purpose, gel, non-drip instant adhesive ideal for vertical and overhead applications. Fast curing instant adhesive for bonding difficult-to-bond materials in applications where uniform stress distribution and high tensile or heavy strength are required. The gel-like consistency allows work on vertical surfaces without dripping.

Properties:
• Universal gel instant adhesive
• Does not flow or drip
• Does not absorb, suitable for bonding porous/ highly absorbent materials
• Perfect for all quick repairs
• Ideal for overhead work and vertical surfaces
• Bonds wood, metal, ceramics and most plastics to and with each other

Technical data:
Hand strength: 5 - 10 sec.
Service temperature range: -40°C to +120°C
Colour: colourless, transparent
Content: 3 g.
nameinstant adhesive
manufactureLoctite 454
versiongel
Handfest5-10 Sek.
contents3 g
item No.507919