The best...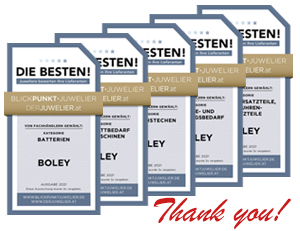 THE BEST SUPPLIERS 2020/2021

THANK YOU FOR YOUR CHOICE!

420 specialist retailers, jewellers, goldsmiths and master watchmakers voted in the trade magazine "Blickpunkt Juwelier" and chose the best suppliers 2020/2021.

GEBRÜDER BOLEY was awarded in FIVE CATEGORIES and we would like to thank you very much for this.

Benefit from our SPECIAL PROMOTION "THE BEST" and secure the following special offers. The campaign period is valid from 01.05. to 31.05.2021.