Loctite light-cure adhesives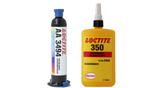 Light-curing UV adhesives for gluing in watch glasses or transparent jewellery stones.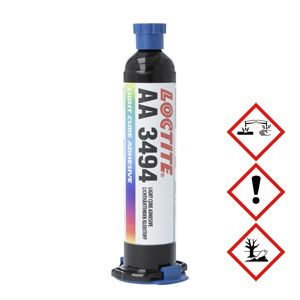 LOCTITE AA 3494 - light-curing adhesive (syringe)

High transparency, low yellowing, very high viscosity light-cure acrylic-based adhesive. High, on-demand curing speed. Suited to plastics and well suited to ceramics, glass and metals. Ideal for bonding watch glasses, as well as jewelry stones. Tack-free time is 30 secs and fixture time 8 secs. Depth of cure is 13 mm and service temperature range is -40ºC to +120ºC.

Properties:
• High-speed cure on demand
• Very high viscosity
• High transparency and low yellowing
• Well suited to plastics, glass and metals
• Suitable for ceramics

Technical data:
Hand strength: 8 sec
Surface dry: 30 sec
Through-cure depth: 13 mm
Viscosity: 6,000 mPa-s
Application temperature range: -40°C to +120°C
Colour: high-transparent
Content: 25 ml

This adhesive is cured using a UV curing device such as Boley No. 695850 or 695855.
namelight-cure adhesive
manufactureLoctite AA 3494
Handfest8 Sek.
Troken30 Sek.
contents25 ml
item No.507814