Polywatch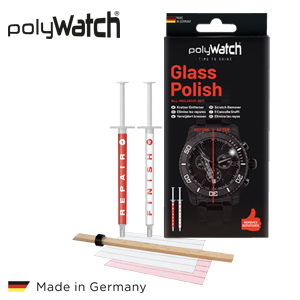 Polywatch glass polishing cream
High-Performance Diamond Polish for any real glass watch crystals:
• Removes small and medium scratches from watch crystals made of real glass
• Versatile use: watches, smartphone, car, furniture, household, window, etc.
• 2-Component-System:
Step 1 - the High-Tech Diamond "Repair-Polish" removes the scratches
Step 2 - the Diamond "Finishing-Polish" polishes on high gloss
• Professional results thanks to the "Diamond-Polishing-Technology"
• Easy and effective application
• Suitable for all glass qualities
• Saves expensive repairs and conserves the value
• For approx. 30 to 40 applications
• All-Inclusive-Kit
PU: 1 / 6 pieces (sales display = 6 pieces)
Price per piece!
nameGlass Polish
versioncrystal glasses
manufacturePolywatch
item No.515950