repair bag

Repair pouches

and various other guarantee cards.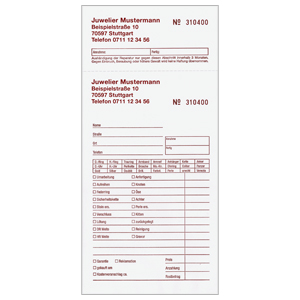 Repair job envelopes - with imprint of the company logo
Repair job envelopes with tear-off, doublicate numbered, with security adhesive.
Color white
Material: paper
Format: neutral - Watches or Jewellery (of your choice)
Dimensions (L x W): 225 x 105 mm
Contents: 100 pieces
Minimum quantity: 1000 pieces - please send custom logo via PDF, EPS or TIFF.
namerepair job envelopes
versionwith company imprint
dimensions225x​105mm
contentsfrom 1.0000 pieces
item No.507425