Hand setting tools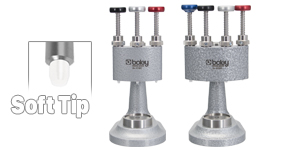 High-quality processed hand setting presses with three or four brooches made of strong cast iron and POM tips. Thanks to the POM tips, no scratches or pressure marks are left behind. Swiss Made.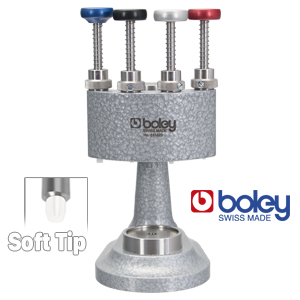 Profi setting tool for hands "Swiss-Made"

High quality hand-presser with four broaches for series assembly. This tool makes it possible for you to set the hands precisely after adjusting for larger numbers as well. With its Ø 31 mm base plate, the most movement holder can be used. Colored "quick-change" brooches, which can be exchanged quickly and without disassembly of the stakes.
Included:
1 setting tool with base 31 mm
4 quick change broaches
4 stakes made of Delrin (Ø 0.30 / 0.95 / 2.10 mm)
Dimensions (L x W x H): 95 x 80 x 160mm
Weight: 1585 g
namehand-setting press
version4 runners
additionwith Delrin inserts
manufactureBoley
item No.511623