polish holder for rings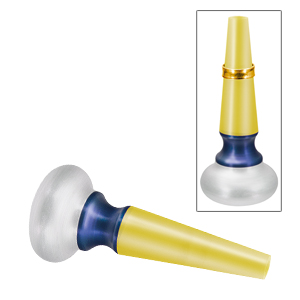 Polishing holder for rings
Practical polishing holder for easy polishing, satin-coating and grinding of rings. The special rubber cone ensures that the rings adhere to the polishing holder and remain in position.
Characteristics:
• Anti-slip and washable rubber cone
• Multi-section holder with aluminum handle
• No heat transfer when work on rings
• Compact design
Cone: 12-25 mm
Total length: 120 mm
With the adapter-device No. 506892, the polishing holder can be mounted on Ø 14 mm polishing shafts of polishing units.
namepolish holder
versionfor rings
Konus12 - 25 mm
manufactureBoley
item No.506890