JEWELliner XS2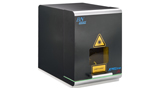 • JEWELliner XS2 - complete package
• Compact marking and cutting laser for all metals
• Marking field size: 70 x 70 mm
• Jeweller's set including flat table and standard rotary axis
• Extraction system with connecting hose
Fibre-Laser-System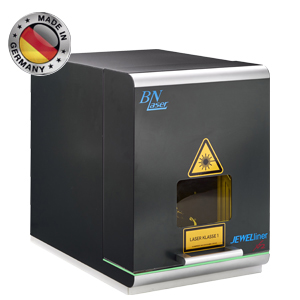 JEWELliner XS2 - 20 Watt - Complete package incl. suction unit
Engraving, inscription and marking laser in one, including flat table, rotary axis and extraction system. The compact marking laser JEWELliner XS2 is suitable for marking or engraving of all metals, selected plastics and ceramics. The housing size is very compact and space-saving and can therefore be used even in the smallest workshops. The marking laser is used by goldsmiths, watchmakers and jewellers.
Examples of materials: Steel, stainless steel, gold, silver, titanium, aluminium, brass, copper, bronze, carbon, ceramics, Makrolon.
Possible applications:
• Ring interior engraving (e.g. name, date, symbol, handwriting)
• Ring external engraving (e.g. name, endless graphic, endless pattern)
• Inner and/or outer bangles
• Text engraving (straight text, circle text, text sheet, text symbols)
• Handwritten engraving
• Fingerprint engraving
• Micro engraving (micro text up to min. 0.20mm character size)
• Round engraving (inscription on round or curved surfaces)
• Graphic engraving (logo, drawing, hand drawing)
• Photo engraving
• Bar code (bar code, data matrix, QR code)
• Serial number Marking
• Small compact design, all components are built into the housing and are sufficiently air-cooled!
The machine is maintenance-free! Developed and produced in Germany.
The basic equipment of the JEWELliner XS:
• Fiber laser unit with scan head and focus beam module
• Flat table "Basic"
• Three-jaw chuck standard for ring interior and exterior lettering
• LED lighting in the interior
• Protective housing class 1 with 200x140 mm privacy screen
• Emergency stop
• 180° Visible area Marking area
• The focus can be adjusted manually via an electric Z-axis
• Preconfigured marking software
Technical data:
Laser type: Fibre laser
Power (CW): 20 Watt
Frequency range: 25,000 - 60,000 Hz
Connection type: USB 2.0
Wavelength: 1064nm
Lens (standard): F-Theta 100
Marking field size: 70 x 70 mm
Focus range: approx. 1 - 1,2 mm
Min. Letter height: 0.20 mm
Min. Line width: 0.02 mm
Cooling: air-cooled
Maintenance: maintenance-free
Power supply: AC 110V/230V - 50/60Hz
Dimensions W x D x H) 340 x 520 x 460mm
Weight: 45kg
Scope of delivery: Fibre laser system BN JEWELliner XS2, standard rotary axis, standard fixing table, USB stick with software, suction unit incl. connection hose.
nameFibre-Laser-System
manufactureBN
typeJEWELliner XS2
output20 Watt
item No.695582