GemLoupe
GemLoupe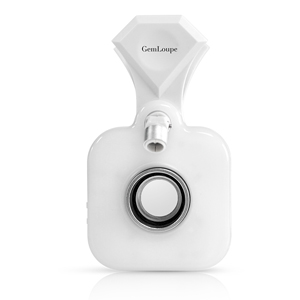 GemLoupe

GemLoupe GemLoupe is your mobile solution for excellent recordings of your jewellery and gemstones with your smartphone. Equipped with a 5x magnification lens, you can quickly and easily create high-quality videos and photos from anywhere in the world. Use the white light to take pictures of diamonds and delicate jewellery or the yellow light to take pictures of precious stones such as emeralds, rubies and opals. Set special accents with the additional glitter light and highlight the impressive sparkle of your stones.

Features:
• Smartphone friendly: Take images directly using any smartphone and the GemLightbox App.
• 5X Lens + Sparkles Lens: GemLoupe comes with a 5X lens to create the perfect images and videos, jus the right amount of zoom.
• Plug and play: Clip-on the GemLoupe and you're ready to go. No setup or training is required!
• Sparkles all the way: Our data shows that videos captured using GemLoupe are much more likely to capture attention on Social Media!

Technical data:
Dimensions (W x D x H): 65 x 40 x 110 mm
Weight: 100 g

Included in delivery:
GemLoupe, empty lens, glitter lens, 5x magnification lens, power cord, smartphone holder, cleaning cloth, carrying case with strap.
nameGemLoupe
versionMobile
additionLED lighting
item No.696091