PUK 6 + welding microscope


Pay for your new PUK 6 precision welder in 12 free monthly instalments at € 394,- /net without additional costs.
• Convenient partial payment via direct debit
• without fees
• without interest
• without deposit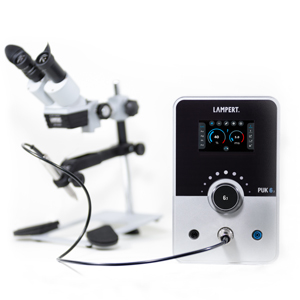 The new PUK 6 - fine welding technology that sets standards.

A comparison with its predecessors unveils: 20 years of experience and passion in development
are taking micro welding technology with the PUK 6 to a completely new level.

WELDING
• Up to 3.3 welding spots per second: Welding sequence now up to 65 % faster
• Smoother, more homogeneous weld spots – excellent weld seam even with variable weld spot gaps
• Higher heat input where needed: Perfect welding results even with critical materials
• 50 % smaller welding spots in low power range
• Minimal pulse duration now down to 0.1 ms: 67 % shorter welding time in micro mode

HANDPIECE AND ELECTRODES
• 20 % faster and, thus, more agile electrode travel
• Maximum electrode thickness now up to 1 mm
• Up to 50 % longer service life of the electrode*

OPERATION
• 70 % higher screen resolution for improved viewing angle in any operating condition
• Quick operation and material selection through direct menu selection with one single turn-push-tilt knob
• New standby mode: Continuous availability at 85 % lower energy consumption

WELDING MICROSCOPE SM6
• New elegant design
• Perfectly matched to the PUK 6
• Height and tilt adjustment for optimum working comfort and ergonomic working position
• Padded hand rests for comfortable working
• LED illumination on the microscope head, adjustable in 4 brightness levels, optimum illumination of the working area
• High precision at 10x magnification (optional 15x)
• Electronically controlled LCD eye protection module
• Can also be used as a fully-fledged viewing microscope

Technical data:
Current (WIG) min./max.: 9 - 400 A
Pulse duration (WIG) min./max.: 0.1 - 34 ms
Current (tack welding) min./max.: 80 - 700 A
Pulse duration (tack welding): 1.5 ms
Welding speed: up to 3 Hz
Max. charging time: 0.8 s
Number of metal programs: 12
Gas consumption: approx.: 2 l/min
Shielding gas: argon >99,9 % / e.g. Argon 4.6
Power consumption during welding: 400 VA
Power consumption in maintenance operation: 7 W
Weight: 9.4 kg

Scope of delivery:
PUK 6 fine welding unit with handpiece, welding microscope SM6, gas hose 3m, mains cable, contact clamp, diamond grinding wheel, 4x electrodes 0.8mm WLa, 2x electrodes 1.0mm WLa.
nameprecision welder
typePUK 6
Versionwith touch-display
additionand Mezzo-Microscope SM5.1
item No.695476