Adamas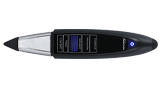 • tester for distinguishing diamonds, moissanite and other diamond simulants.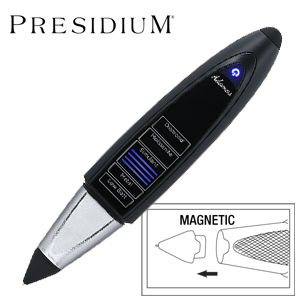 Presidium Diamond and Moissanite Tester Adamas 2.0
Promotion: By purchase of a Presidium Adamas combinied test unit you get 1x fine tip 0,01ct. No. 695254 for FREE!
The world's first diamond and moissanite tester with interchangeable and micro probe tips, to authenticate diamonds a small as 0.01 carats. Now new with magnetic tip!
The epitome of style and cutting-edge technology, Adamas diamond and moissanite tester comes with changeable tips and allows you to replace any worn or damaged probe tip yourself, eradicating and reducing any equipment downtime. It can also be used with the special micro probe tip that is able to authenticate diamond melees as small as 0.01 carats.
A hallmark of design featuring a dynamic LED display and a sleek ergonomic grip, the premium choice Adamas tester is precise, reliable and made of excellent quality.
Features:
• Easy-to-use interchangeable probe tip
• Industry's thinnest probe tip for testing diamonds
• World's only micro probe tip
• In-built memory chip for up to 500 test records
• Dynamic display with super bright micro LED for clear and distinct results
• Sleek chrome-brushed ergonomic grip
• USB port for alternative power source and connectivity
Benefits:
• Detects diamonds, moissanites, simulants instantly with metal alert
• Accurate testing on diamonds as small as 0.02 carats and diamond melees as small as 0.01 carats
(with micro probe tip)
• Retractable thermoelectric probe tip that ensures constant pressure between probe and gemstone, for enhanced accuracy
• Light and portable for convenience
• Compatible with web application OMI to save and share your testing results
Technical specifications:
Dimensions (L x W x H): 189 x 36 x 28mm
Weight: 79g (without batteries)
namecombined tester
VersionAdamas Magnetic
manufacturePresidium
item No.695252