Durston
pickling unit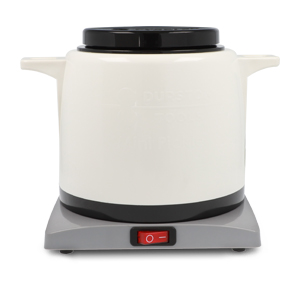 **Durston "Mini Pickle" Stainer
The "Durston" pickling unit is a compact and safe to use pickling unit, it heats liquids to 65°C in 20 minutes and maintains the temperature automatically. Device for the rational and clean acidification or pickling of precious metals.
Thanks to its cordless design, the Mini Pickle can be removed from the base station for emptying or refilling without having to unplug and take the cord with you.
Pickling is a common process in jewellery making to clean and brighten precious metals after soldering. The process involves dipping the metal parts in a pickling solution, usually made up of an acid and water, to remove any fire scale or tarnish that may have accumulated during the soldering process. Traditionally, pickling solutions were made with strong acids such as sulphuric acid. However, these strong acids can be dangerous and damage the metal if not used properly. They can also have a negative impact on the environment and the health of the user. For this reason, it is best to use acid-free alternatives for pickling. Durston's acid-free stain solution is environmentally friendly and safe to use. The novel formula also makes it gentle on the metal, yet highly effective in removing burnt scale and tarnish. It leaves no residue on the metal and ensures that your jewellery retains its best appearance.
Scope of delivery: Durston "Mini Pickle" pickling unit, base station with power supply unit, 150g pickling agent in powder form.
Technical data:
Dimensions (L x W x H): 180 x240 x 240 mm
Weight: 1200g
Mains operation: 230V ~ 50Hz
namepickling unit
bath temperature65 °C
capacity500ml
manufactureDurston
item No.607852