Vacuuming system "CASO VC10"
Vacuuming System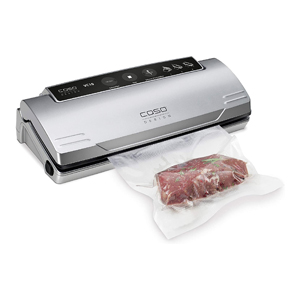 Fully automatic vacuuming system for your food "CASO VC10"

For vacuuming and sealing in your food to prevent loss of flavour and freezer burn Vacuuming opens up new worlds of taste, such as sous-vide cooking or intense flavours through marinating. With a roll width of 30cm for setting simple sealing seams.

• Fully automatic vacuum sealer
• Ideal for meat, fish, vegetables and fruit
• Removable vacuum chamber
• Vacuum regulating with stop button: perfect for sensitive goods
• Electronic temperature control for perfect seam weld
• Incl. 10 premium-quality bags (20x30 cm) + vacuum hose for container
(no adapter for VacuBoxxes included)

Technical data:
Dimensions (W x H x D): 360 x 90 x 150 mm
Weight: 1,4 kg
Colour: silver
Vacuum pump: 9 ltr./min.

The CASO VC10 automatic vacuuming system is supplied together with the battery pack. The delivery is without additional payment, no further battery packs are necessary.
nameVacuuming System
manufactureCaso VC10
additionKostenlos bei 1 Paket
item No.399914