microscopes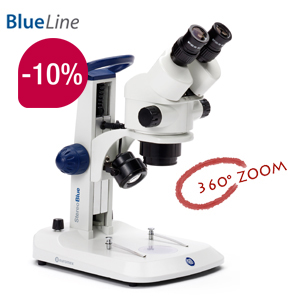 BlueLine Stereo Microscope - Binocular
Special offer from 17.03. - 31.03..
You will receive a special discount of 10% on the already reduced special price when purchasing this BestSeller microscope! Not combinable with other discounts or vouchers.
The StereoBlue microscopes BlueLine series by Novex are characterized by their favorable price and its ergonomic design. The StereoBlue is fitted with a 45°-inclined, 360° rotatable binocular head with two fixed 10x/20 mm eyepieces. The eye-spacing may be adjusted between 55 and 75mm. Scope of delivery includes a transparent and a black/white objective plate and two objective clamps.
Features:
• Adjustable LED illumination for incident and transmitted light
• Ergonomic design
• 5 year warranty
• Practical carrying handle
• 45° inclined tubes and 360° rotatable - 0.7x - 45x
• Large working distance
Specifications:
Tube: Binocular, Zoom Ratio 1:6.5
Magnification: 0.7x - 45x
Working distance: 100mm
Field of view: 28.5 to 4.4 mm
Lighting: LED 3 Watt
Dimensions (L x W x H): 266 x 220 x 345 mm
Weight: 4600 g
namestereomicroscope
Versionbinocular
magnification0.7x - 45x
additionwithout camera barrel
item No.695780