CaratScreenPen
gold tester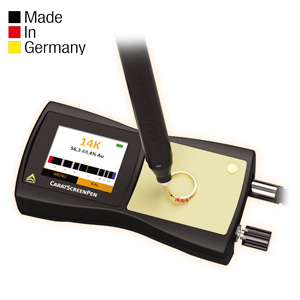 Gold and platinum tester "CaratScreenPen "
The CaratScreenPen makes it possible to determine the content (carat number) on the surface of, for example, gold jewellery of all shapes and colours, as well as recycled scrap gold in just a few seconds. The compact gold tester to determine the carat number of gold jewellery quickly and easily - the measurements are taken by placing the measuring pen on the test object - the result is obtained after just a few seconds. Suitable for determining the carat number of jewellery, gold, palladium, platinum, rhodium.
Measuring principle:
The CaratScreenPen uses an electrochemical method to determine the gold fineness on the surface of gold jewellery, recycled scrap gold and other gold-bearing materials. In addition, it is possible to determine whether platinum, palladium or rhodium-plated surfaces are present. The measuring tip forms a so-called "galvanic cell" on contact with the object lying on the measuring surface. This results in a certain electrochemical behaviour, which is registered by the measuring tip and processed by the device. The determined value correlates with the carat number, which is output after a few seconds in the unit "K" (=carat).
Features:
• Mobile use with long battery life - ideal for on-site measurements
• Intuitive and easy to operate via a colour LCD display
• Detects even numerous gold-plated fakes and imitations or cheap costume jewellery in combination with the enclosed glass fibre pen - even the notorious motorway gold can be identified
• No need for test acids or expensive X-ray fluorescence equipment to determine the gold content
Please note: Electrochemical methods work by causing a chemical reaction that changes the surface (especially of objects with high silver content >>> blackish stain or high copper content >>> copper-coloured stain). You can polish the corresponding discolouration with the enclosed glass fibre pen, which will remove it. In addition, it is important to note that the CaratScreenPen only analyses the texture of the surface. It is possible to examine the core of the respective object if you can file it in one place.
Scope of delivery: CaratScreenPen, measuring pen, cinch cable, charging cable, glass fibre pen, quickstart guide, detailed instructions, practical and padded carrying case.
namegold tester
Versiondigital
manufactureCaratScreenPen
item No.695285