Watch Cleaning Machine
watch cleaning machine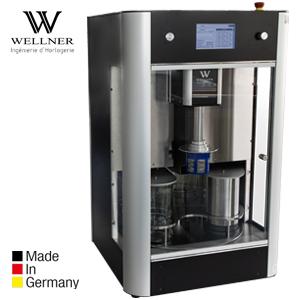 WELLNER L1 v3.0 EX
Fully automatic cleaning machine for disassembled and unassembled movements and small parts. Due to its construction and sophisticated saftey system it is the first classical designed watch parts cleaning machine meeting the strict the requirements to use flammable liquids certified by TÜV Süd.
It provides 6 cleaning tanks including one with ultrasonic cleaning with sweep-function. The temperature of the hot air blower for drying is adjustable. 30 cleaning programs with up to 32 individual, freely programmable cleaning steps can be created and stored. These can be alphanumerically named and, after selection, started by pressing a single key. The change intervals of the baths according to duration or age, stored by you, are indicated by a note. For quality assurance purposes, the machine optionally logs each executed cleaning program with the associated steps and the current status of the cleaning baths and exports them to an SD card.
The entire power electronics as well as the PLC are separated from the working area in a separate switch box which is forced-ventilated to the outside.  The heating fan is located above the liquids and sucks in fresh air from the outside.  Heating, working area and switch cabinet are temperature monitored. Door monitoring stops all axes when the door is opened during operation.
Features:
• 6 cleaning positions, including 1 ultrasonic bath with sweep function (can be switched off)
• 30 freely definable programs with up to 32 individual cleaning steps
• Adjustable dry air flow temperature
• Bath time/cycle control with information on bath change
• Protocol function with storage of protocols on SD card
• USB connection for updating the controller
• Intuitive operating concept
• Innovative cleaning movements
• Brushless servo motors
• Graphic LC display with backlight
Security:
• All baths closed during cleaning / spinning and in standby mode
• Power electronics separated from work area and separately ventilated
• Brushless commutation of all drive motors (no sparking possible)
• Ultrasonic bath permanently contacted outside the working area
• Exhaust air with follow-up control
• Door monitoring
• Heating with separate supply air
• Fan failure monitoring
Mechanics:
• Sturdy all-metal construction
• Front and side windows made of 6mm break-resistant acrylic glass
• Massive powder-coated aluminium cladding
Scope of delivery:
Cleaning machine Wellner L1 with ultrasonic bath, 5 glasses, breakwater, mains cable, operating instructions, as well as basket holder for 64mm baskets
Technical data:
Dimensions (W x D x H): 480 x 480 x 770 mm
Mains voltage: 110-120V / 220-240V (50/60Hz)
Weight: 75 kg
namewatch cleaning machine
VersionEx-protection
manufactureWellner
typeL1 3.0 EX
item No.692350