gas soldering unit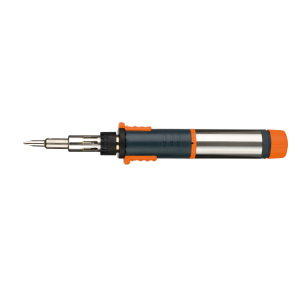 Gas soldering device with piezo ignition

Practical self-igniting gas soldering device for soldering, loosening or separating. Mobile and non-network-independent for many different applications, e.g. as a soldering iron, welding, hot-air gun or also for loosening bonded case tubes, screws, e.g. on the metal band, casebacks, bezels, etc.

Characteristics:
- Power infinitely adjustable
- Ready for immediate use, start-up 15 seconds after commissioning
- Robust, high-quality design thanks to stable housing
- Replaceable nozzles and tips (optionally available)
- Transparent guest house
- Quick refill with standard butane gas (No. 510513)

Technical specifications:
- Burning time: approx. 200 minutes (depending on the setting)
- Power: 25 - 130 watts
- Gas flame: 1300°C
- Hot air nozzle: 625°C
- Soldering tip: 580°C

Scope of delivery:
Soldering iron with table stand in wire form, soldering tip 2.4mm, safety cap and user manual.
namegas soldering
Versionself-igniting
item No.510525