Glass Polish
GlassPolish reliably removes scratches from all watch crystals by simple, dynamic polishing. Impurities and surface damage are also removed. Even deeper scratches can be removed by repeated use. Scratched surfaces are returned to their as-new condition!
Glass Polish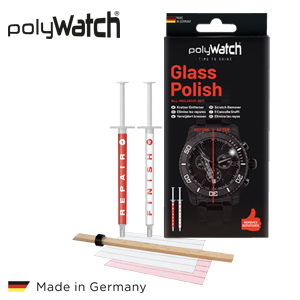 Polywatch glass polishing cream
High-Performance Diamond Polish for any real glass watch crystals:
• Removes small and medium scratches from watch crystals made of real glass
• Versatile use: watches, smartphone, car, furniture, household, window, etc.
• 2-Component-System:
Step 1 - the High-Tech Diamond "Repair-Polish" removes the scratches
Step 2 - the Diamond "Finishing-Polish" polishes on high gloss
• Professional results thanks to the "Diamond-Polishing-Technology"
• Easy and effective application
• Suitable for all glass qualities
• Saves expensive repairs and conserves the value
• For approx. 30 to 40 applications
• All-Inclusive-Kit
PU: 1 / 6 pieces (sales display = 6 pieces)
Price per piece!
nameGlass Polish
Versioncrystal glasses
manufacturePolywatch
item No.515950