Plastic Polish (Blister)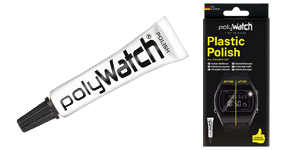 The innovative and unique polishing paste "Made in Germany", quickly and inexpensively removes scratches in watch crystal in a do-it-yourself process. Simply apply some polyWatch to the watch crystal and polish - the watch glass will then shine with new brilliance!
Plastic Polish (Blister)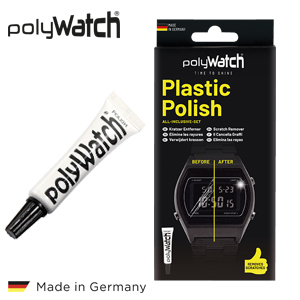 Polywatch acrylic polishing cream - Blister
Reliably removes scratches from acrylic watch-crystals:
• Proven millions of times and globally the No.1 Repair-Polish for acrylic watch crystals
• Professional results, also for deeper scratches
• Series Award-Winner in international magazines
• TÜV certificate for proven effectiveness
• Easy and quick application
• Application saves expensive repairs and provides value retention
• Superior effect due to PDT (Plastic Deformation Technology)
Contains: 5 ml
PU: 1 / 6 pieces (sales display = 6 pieces)
Price per tube!
namePlastic Polish (Blister)
Versionplasticglasses
manufacturePolywatch
item No.515953