PUK 5.1 + welding microscope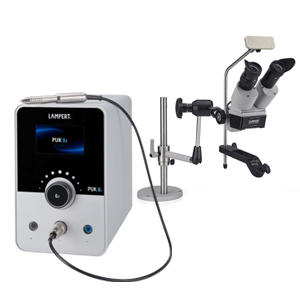 Welding System PUK 5.1 with articulated arm welding microscope SMG5.1
Weld on findings, easily add metal, weld adjacent to stones and pearls, weld silver (alloys), fill porosity, attach workpieces prior to soldering, weld seams, and much more – all no problem with the PUK.
Novelties versus PUK 5 and PUK 04:
1. Micro welding: Material thicknesses of less than 0.2 mm for wires and sheets can be welded in an even more controlled manner.
2. Smoothing: Applied material can - as desired - be better shaped and the welding characteristics of highly thermally conductive materials such as silver, copper and bronze have significantly improved.
3. Extended material selection: the welding parameters for copper and bronze have been optimized.
The original PUK fine welding system:
• Superior welding characteristics
• Consistently reproducible and high quality welding results
• On all materials suitable for welding
• Simple and intuitive to operate
• Precise positioning of the welding points
• Very low, controllable development of heat
• Welding of even the thinnest materials
• Makes for easier and faster repairs and soldering
• Precise welding under the welding microscope
• Maintenance-free technology
• Low procurement costs, extremely good price/performance ratio
• Compact size – fits into every workshop
• Very low costs of consumer materials
• Low argon consumption
Scope of delivery:
PUK 5.1 welding system, articulated arm welding microscope SMG5.1, welding course (instructions), 1x pack of welding electrodes, all necessary terminals, operating manual, DVD with videos.
nameprecision welder
typePUK 5.1
versionwith touch-display
additionand Mezzo-Microscope SMG5.1
item No.695483