PT 3
polishing machine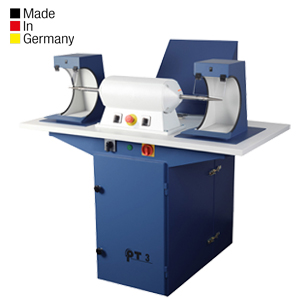 PT 3 polishing bench

The PT-3 polishing bench is in a class of its own, a superbly-designed, double-station polishing bench with clearly arranged operating elements, optimal anti-dazzle LED lighting in the extractor hood and a very good extraction rate thanks to a silenced exhauster. The dust generated is caught in the drawer beneath. An emergency stop switch ensures safety in the event of an emergency. The PT-3 is a model which has been accepted by many jewellers, goldsmiths and goldware manufacturers and has repeatedly proved its value.

Technical details:

2-spindle, 400 V, 50 Hz, 0.37 / 0.55 kW, double motor
Rotation: 1400 / 2800 rpm
Illumination: 4x 9 LED's (640 Lumen) per polishing side
Suction: 2000 m³ /h, filter casette, silencer
Brush Ø: 200 mm max.
Dimensions: L 1250 x D 980 x H 1225 mm, 150 kg
Accessories: 1 polishing spindle each left and right

Individual construction on request!

ATTENTION: DEVICE IS POWERED BY HIGH VOLTAGE 400 VOLTS! INSTALLATION BY A QUALIFIED ELECTRICIAN! DELIVERY WITHOUT HIGH POWER CABLE!
| name | type | RPM | motor output | suction performance | item No. |
| --- | --- | --- | --- | --- | --- |
| polishing machine | PT 3 | 1400/2800 | 550 watt | 2000 m³/h | 691975 |