Keychain

Keychain
Stainless steel engraving plates with bowl ring
Butterfly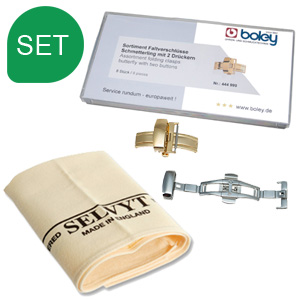 Set of 8 Butterfly Folding Clasps for Leather Straps.
In this assortment you will find the bestselling butterfly leather strap clasps by Boley No. 444999
Contents:
1 x 12mm Yellow 444880
1 x 16mm Yellow 444882
1 x 18mm Yellow 444883
1 x 20mm Yellow 444884
1 x 12mm White 444980
1 x 16mm White 444982
1 x 18mm White 444983
and matching Selvyt - Care Cloth. Original cleaning and polishing cloth especially for jewellery and watches made of highest quality cotton. Velvety texture, non-fluffy and washable. Dimensions: 350 x 350 mm, Boley No. 507036
---
Order the "Butterfly" clasp assortment for leather straps today only on 11.12.2022 and receive a Selvyt care cloth for free. Only while stocks last.
---