Chronoscope X1 (G3)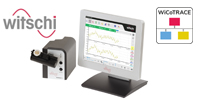 The Chronoscope X1 (G3) is synonymous with high-precision technology combined with modern design.
Superb materials and brilliant design combined with the latest technology – that is the Witschi philosophy. The new Chronoscope X1 (G3) offers even more. Namely taking pleasure in working professionally.
The best Chronoscope X1 (G3) ever is a fantastically finished device made of first-class materials. A capacitive touchscreen made of high-quality glass shows the measurement results on its brilliant, high-contrast display. The bright, full-colour touchscreen has a high-grade aluminium surround and stands on an elegant base. The Chronoscope X1 (G3) and all Witschi measurement systems can be integrated into a network using WiCoTRACE.