Luxury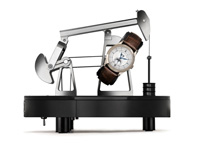 The Oil Baron combines beauty with state-of-the-art precision mechanics.
Each of these watch winders is handmade and equipped with a sequential number in limited numbers.
It is quite possible that your beautiful collectibles will become a "minor matter" and the breathtaking spectacle will become the main actor.
As the owner of a watch shop, such a watch winder can become an "eye-catcher" in your shop window. Technically enthusiastic customers will accumulate your unique watch winder and carry on.