Kern EWJ 600-2M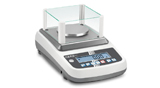 High-quality precision balance with automatic internal adjustment, also with EC type approval. Regardless of location. Ideal for mobile applications which require verification, such as ambulatory gold and jewellery purchasing.
precision scales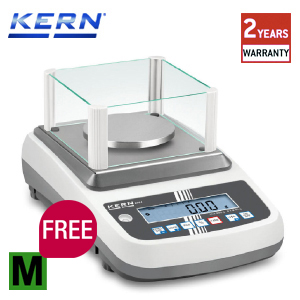 Calibratable precision balance KERN EWJ 600-2M

Gold balance with integrated automatic adjustment permitting the user to adjust the balance indpendently wherever the balace is in use. Changeover facility in grams, pieces or % and capacity display by means of a rising illuminated bar and counting function.

Features:
- Concept of easy use: All primary functions have their own key on the keypad
- Automatic internal adjustment time-controlled every 4 hours. Guarantees high degree of accuracy and makes the location irrelevant
- Capacity display: A bar lights up to show how much of the weighing range is still available
- Draft shield with removable cover and opening for using a pipette standard for models with weighing plate size Ø 135 mm, weighing space WxDxH 145x160x80 mm
- USB interface for transferring weighing data to the PC, printer, USB sticks etc.
- RS232 interface for transferring weighing data to the PC, printer etc.

Technical details:
Weighing range: 600 g
Readout: 0.01 g
Verific. Value: 0.1 g
Weighing plate Ø: 120 mm
Dimensions (L x B x H): 220 x 340 x 95 mm
Weight: 2800 g
Mains operation: 230 V/ 50 Hz

Please order verification at the same time, initial verification at a later date is not possible!
nameprecision scales
manufactureKern EWJ 600-2M
Versioncalibratable
Capacity600g
legibility0.01g
item No.691142