Keychain

Keychain
Stainless steel engraving plates with bowl ring
Digitialisation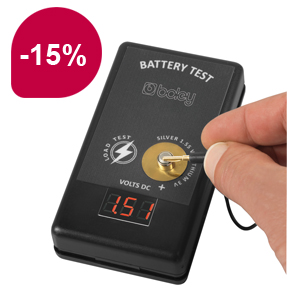 Battery Tester - Digital
Accurate battery tester with easy-to-read red digital display and "Load" function: this allows the capacity of button cells 1.5V (301-399) and lithium cells 3.0V (BR/CR series) to be tested under resistance. The power supply is provided by a 9V battery.
Technical data:
Dimensions (L x W x H): 115 x 85 x 65 mm
Weight: 100 g
Operating instructions:
connect the supplied 9V battery inside the battery compartment.
Touch the black negative cable to the negative pole of the battery and read the voltage. 3.
Press the "LOAD" button at the same time and wait approx. 2-3 seconds, then read the voltage again. During the test, you will receive important information about the estimated life of the button cell:
a) If the voltage remains stable, it means that the battery is OK.
b) If the voltage does not remain stable or even has a tendency to drop sharply, you can assume that the life of the button cell will be short; it is recommended to replace the battery.
Boley art. no.609649
Action discount is only valid on 03.12.2022 and only while stocks last.