Keychain

Keychain
Stainless steel engraving plates with bowl ring
Firescoff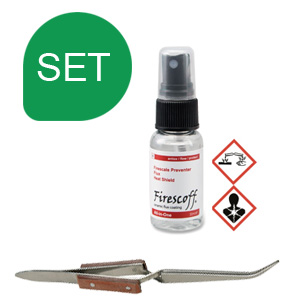 Flux Firescoff
The revolutionary all-in-one Firescoff forms an easy-to-spray, nano-particle based, kermaic protective coating. This provides extremely consistent solder flow while protecting the metal from heat-induced tarnishing. Firescoff also protects not only stones and metal, but also preserves the original alloy, colour and shine of precious metals. Completely water-soluble, Firescoff eliminates the need for acid-based pickling solutions. This makes your soldering work safer, faster and also more cost-effective. Simply spray Firescoff onto the workpiece, solder and wash off with warm water. Firescoff is non-flammable, free of fluoride and chloride and alcohol.
Properties:
Replaces flux, heat protection and pickle.
Protects against heat tarnishing of the metal
Perfect, non-porous welds
Consistent and predictable solder flow
Multiple soldering possible with a single application
Reduces preparation time by up to 60%
Original metal colour and shine are preserved
Fluoride free (suitable for rubies and sapphires)
Non-toxic, no toxic fumes when soldering
Easy to rinse off with water - no stripping necessary
Application:
Carefully heat the metal to approx. 120 °C. Spray Firescoff so that a fine mist completely covers the piece of jewellery. If Firescoff is applied correctly, it will immediately form a white powdery film on contact with the metal. Heat the metal again. Apply a little more Firescoff if a reflection of metal or stone is still visible. As Firescoff is also a flux, no more flux is needed. After soldering, the Firescoff protective film can simply be rinsed off with warm water or removed in an ultrasonic bath.
Application: silver, gold, platinum and palladium
Contents: 30ml
Boley No. 507867
---
Order Firescoff flux today only on 10.12.2022 and get a cross grain pliers 513297 for free. Only while stocks last.
---