New catalogue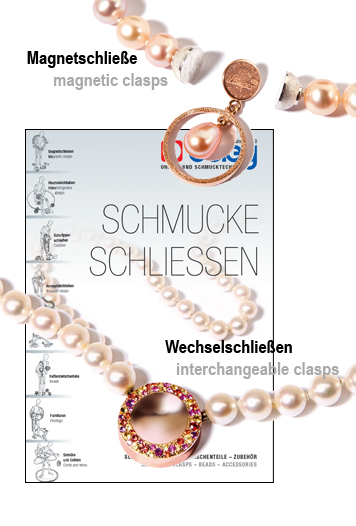 Boley has launched a new catalogue for magnatic and interchangeable clasps.
After two trends have been determined in the range of jewellery clasps in recent years, we have launched a new catalog in time for the Christmas season.
Use this catalog as a template and sales support for a conversation and a consultation with interested endcustomers. All the jewellery clasps are shown in original size and color. By simply adding a sample chain, you can clearly show your customer how the selected clasp matches the chain.
During the hectic Christmas season you will be reliably supplied by our warehouse. All available clasps are delivered the same day of your order and can be "installed" hopefully on the next working day.
This catalog will be sent to you automatically during the next days or just reserve an exemplar with your current order.
Look forward to the coupon weeks at Boley: At the same time you can save money by using the enclosed coupons, you will receive jewellery clasps, sales support displays or additional items for free!
The new jewellery clasps catalog and the coupons can be found in the download area under "catalogs"