Battery Rewards 2020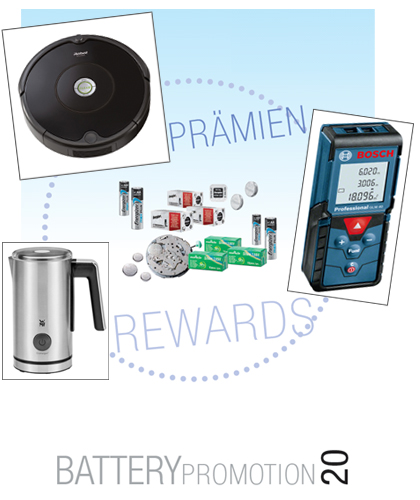 What reward can it be?
Take advantage of our premium Rewards battery campaign for the year 2020 and secure your personal annual bonus Right now.
You have the choice between two ENERGIZER or MURATA battery packs and get your desired premium free of charge when purchasing 1, 2 or 3 packages (see pdf for conditions of participation).
The purchase of these packages can be spread over the whole year 2020 according to your individual battery requirements. The final invoice for the annual premium will only be issued at the end of 2020.
These battery packs cannot be combined with other premium promotions. Delivery while stocks last!
iRobot Roomba ® 606
- Vacuum cleaning robot for easy cleaning under and around furniture
- Simple handling
- Cleaning system with 3 levels
BOSCH GLM40
- Laser rangefinder for length, area measurement and volume calculation
- Illuminated, three-line display
- Memory function
WMF Stelio milk frother
- Noble design made of high-quality Cromargan
- LED-illuminated button with one-touch function
- Dishwasher-safe milk container