BN Laser Technology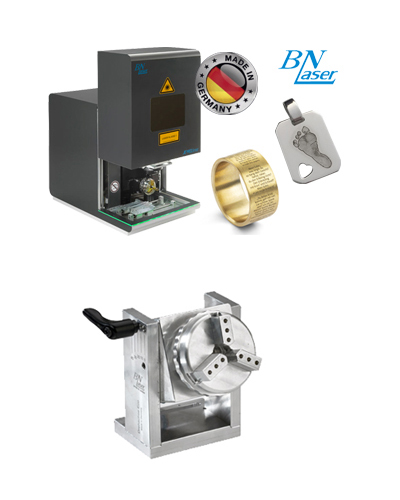 Marking laser "made in Germany"

- THE ALL-ROUNDER AT AN ADVANTAGEOUS PRICE -
Engraving, marking and labelling lasers in a single machine. The fully automatic and compact marking lasers "JEWELliner XS" are suitable for marking or engraving all metals, selected plastics and ceramics. Its extremely high laser beam quality delivers the best results even with small and deep engravings. All "JEWELliner XS" are equipped with a flat table for flat engravings as well as a roll-off device for inside and outside ring engravings. Thanks to its compact and space-saving housing size, it can be used even in the smallest workshop.
The marking lasers are used in goldsmithing, wedding ring production, jewellery production as well as in other production areas.
The "JEWELliner XS" is available in three different versions:
"XS2"
The entry-level version for less than € 10,000 net is suitable for smaller, price-conscious goldsmiths. It is the basic version with a simple scissor table and reduced marking field (70x70 mm).

XS
The standard version for price-conscious goldsmiths and jewellers who require high quality flat engravings. The "XS" impresses with a larger housing incl. professional flat table with a larger inscription area for flat engravings of 110x100 mm.

XS Pro
The professional version for high-class jewellers and service centres offers in addition to the "XS" described under point 2, the "XS Pro" offers a removable gear-controlled unwinding device, a professional flat table "X-Portal", a fully automatic focus for ring engravings as well as an HD laser camera system for live images.
Let us advise you on the advantages of the new "JEWELliner XS" and contact our technical advisors at support@boley.de for further enquiries.
Your Boley Team