Battery Promotion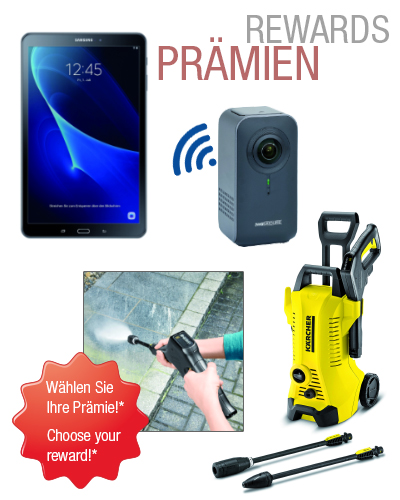 What reward can it be?
Samsung Galaxy Tab A 10.1 Wi-Fi
Enjoy the comfort of the large dislays in 16:10 landscape format while surfing the Internet or maintaining contact via social networks and e-mail. Capture memorable moments with the main camera and take selfies or video chats on the front camera. In special children's mode, even your little ones discover the digital world. The powerful processor as well as the modern, at the slim and light design complete the Galaxy Tab a 10.1 Wi-Fi.
High pressure washer Kärcher K3 Full Control
This high pressure washer is the ideal addition to your home. It is suitable for regular use on soiled surfaces, such as on gardening equipment, cars, bicycles and motorcycles, etc.
Security Camera 360SECURE
360 degree surveillance for your home. Home monitoring on the next generation: a compact WLAN camera replaces a complete video surveillance system without costly installation. With only one camera and a new sensor system with 2 lenses, a large room can be completely monitored by means of a 360-degree projection that can be swiveledin all directions. In addition, the camera has an infrared night vision mode, lightning fast 360° motion detection and is wrelesss network enabled for up to four cameras.