Polishing Holder QC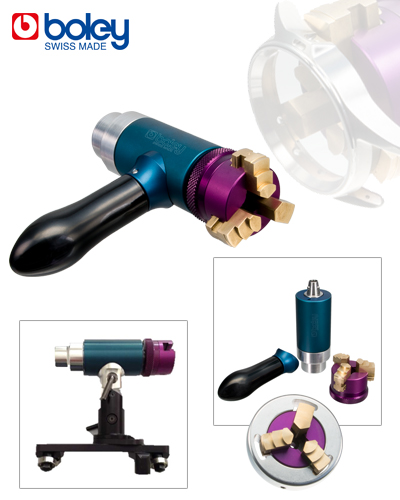 Polishing holder Quick-Change for polishing and laping.
Practical polishing holder "Quick-Change" with quick-change function on the mounting attachment as well as on the three-jaw chuck. You can mount the polishing holder with a handle as well as on a guide carriage. This is required in conjunction with lapidation machines. The three-jaw chuck has a quick jaw adjustment and can be quickly exchanged by means of a Quick-Change lock if required. When working with large workpiece diameters, we recommend mounting the protective ring.
Advantages:
• Safe pick-up of workpieces
• Application as hand apparatus or polishing carriage
• Quick adjustment for quick assembly of the workpieces
• Brass, Delrin or carbide clamping jaws
• Internal or external clamping
• Protective ring for large workpieces
• Quick-Change jaw chuck
• Swiss Made
Ideal for refurbishing watch cases, bezels or case backs when polishing, lapidating or satin finishing.
This holder is recommended by the Swiss watch industry!