Gravotech - WeLase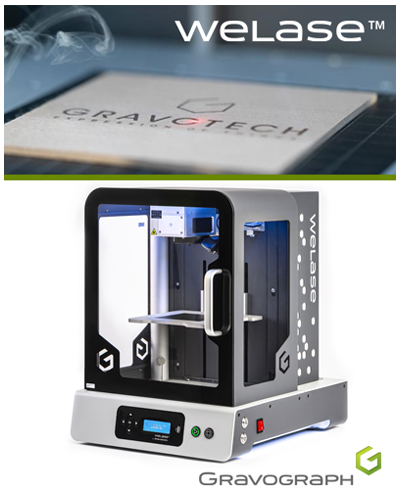 Compact laser engraving machine for personalisation

Specially developed for the retail trade
This marking laser is small, stylish and quiet with large viewing windows. It offers a great in-store experience and creates a memorable moment for your customers when a gift item they have just purchased is instantly engraved. The "WeLase" meets strict global safety regulations and is a certified Class 1 system designed for use in public retail environments.
High-end technology made simple
Benefit from a user-friendly laser with cutting-edge technology that can be operated without any prior knowledge. The WeLase features the following tools:
• High-speed marking knob
• Automatic Z-axis
• Positioning assistants
• Extensive accessory sets such as "Jeweller's Package" and "EasyFix Set
• Customised software options
The engraving software "LaserStyle 9" is easy to operate via the graphical user interface on the PC and offers various functions for formatting text, graphics and images. The software is included in the scope of delivery and can be quickly learned in the course of a training seminar.
Customised laser engraving
The "WeLase" is available with fibre, CO2, hybrid or green laser sources to achieve the best results for the material. With many accessories, options and special packages, we have the solution for your items, e.g. engraving rings, inscribing ID bands, engraving leather bracelets or wooden items, and many more. The machine can transfer various engraving techniques and effects such as hatching, contour or blackening.
Fields of application:
• Names, initials, patterns, barcodes and serial numbers
• Fingerprints, logos and photos
• Flat and cylindrical workpieces
• Internal and external engravings on rings, bangles and watch cases
• Deep engravings
• Cutting of filigree shapes (WeLase Fiber+)
Safe and comfortable
The compact protective housing (class 1 when the door is closed) not only ensures work safety, but also reduces the dispersion of material particles that can arise during engraving. To extract the particles, the "ES Mini" extraction filter system should be connected to the rear of the unit.
---