Award 2021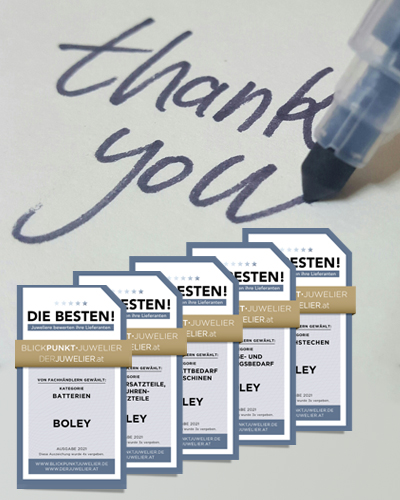 THE BEST SUPPLIERS!
Thank you very much for your choice!
420 retailers, jewellers, goldsmiths and watchmakers voted in the trade magazine "Blickpunkt Juwelier" with 12,650 answers and chose the best suppliers 2020/2021 from 39 categories.
GEBRÜDER BOLEY was awarded the title of "BEST SUPPLIER 2020/2021" in no less than
FIVE CATEGORIES:• Jewellery & Small Watch Spare Parts
• Batteries
• Workshop supplies & machines
• Care & cleaning supplies
• Ear Piercing
THANK YOU VERY MUCH! Your awards motivate us very much to continue to work as customer- and service-oriented as you have been used to from us so far.
As a
100% professional partner of the watch and jewellery industry, we do not sell our products directly or indirectly to end consumers, but only to our long-term business partners
. And this will remain so!
For more than 160 years, we have been acting as an
"extended workbench" for your daily watch and jewellery needs
, delivering on a day-to-day basis according to the motto "Everything from One Source". More than 7,500 specialist trade customers throughout Europe trust our service and order their daily requirements from Gebrüder Boley –
mostly online at
www.boley.de
. With currently between 800-1,000 shipments daily, we are one of the "big players" in Europe's watch and jewellery industry.
We are very pleased to be one of the BEST.
Yours
Christian & Michael Lutz
with the entire BOLEY team