Bonflair Straps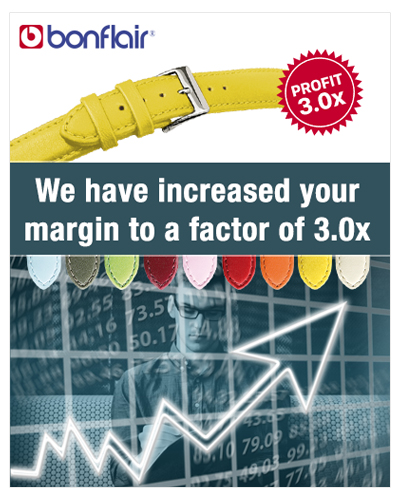 NOW NEW WITH 3.0 x RRP Calculation


YOUR PROFIT AT BONFLAIR - LEATHER STRAPS:
NOW NEW WITH 3.0 x RRP Calculation

Many underestimate the sale of leather straps or do not present them properly to customers. At the same time, the frequency of customers in the retail shops has decreased - even before the Corona crisis. In order for leather straps to continue to generate a contribution margin for the retail business, RRP prices must consequently increase. After all, everything is becoming more expensive in all areas of life.

Gebrüder Boley is taking this development into account and has increased the RRP prices for Bonflair leather straps from a factor of 2.5x to 3.0x as of 1 July 2021. Your purchase prices have not changed. You will therefore benefit from a higher margin with the same good quality and a wide range of products with high stock availability. Bonflair leather straps cover a price range from EUR 13.50 to EUR 46.50. The Bonflair range is rounded off by an interesting selection of metal straps and special straps in nylon, rubber and silicone. For some time now, we have had vegan watch straps as a new addition to our range. The new Mela-Soft collection, produced from apple fibres, has met with great approval. High-quality leather strap and bracelet displays in solid beech, which can be ordered as floor stands or table-top stands, serve as your presentation. An online shop generator for leather bands helps you to quickly put together your bands.

Your quick service for straps is and remains a good business and should not seem annoying. On the contrary, someone who comes to the shop for a strap change could also buy a watch or a piece of jewellery.