Online support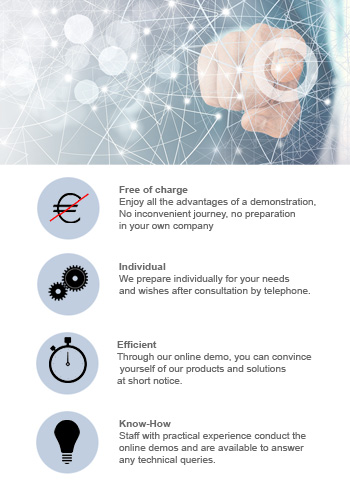 Online technical support

Arrange an online product demonstration or a support appointment now.

Are you interested in products from the BOLEY range or do you need technical support?

Then you can now have the devices of your choice demonstrated online by our experts from the comfort of your desk or workstation! Or you can describe your technical problem to us and we will join you via video link.

Your advantage:
• First-hand expert knowledge
• Professional personal advice
• Convenient and easy from home
• Time-saving and flexible
• Free of charge

This new online offer is made possible by the uncomplicated Microsoft Teams software, which you can simply start on your computer.

Are you curious?

Then contact BOLEY customer service to arrange an appointment or clarify further questions.

Registration for technical product support: support@boley.de



And this is how it works:
• You contact us by email and describe your request.
• We will contact you by phone or email, discuss the subject area and agree on a mutually desired date.
• You will receive a team invitation by email.
• On the agreed date, click on the link in the invitation and you will automatically be connected to our cameras.
• Ideally, you will also have a camera, microphone and loudspeaker connected directly to your PC. Otherwise you can also connect via telephone.
• You do not need any additional software except an up-to-date internet browser.