Elmasonic Select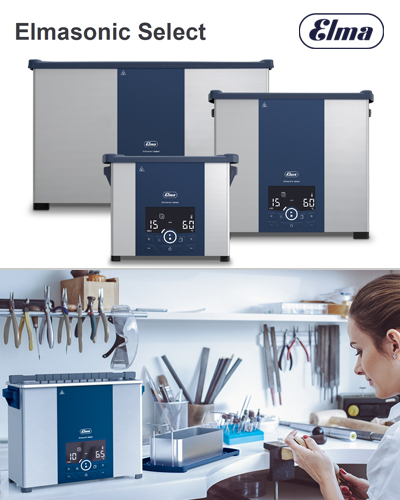 Proven technology. More individuality.

Powerful and individual – these are the ultrasonic cleaning devices of the series Elmasonic Select.

Equipped with an ultrasonic frequency of 37 kHz, 5 ultrasonic modes, the possibility to save up to 4 individual cleaning programmes and with tank volumes from 3 to 90 litres (from Select 60 with drain), Elmasonic Select devices are versatile. Application-specific cleaning chemicals and practical accessories such as baskets, noise protection boxes, holders, etc. ensure best cleaning results.

Memory for up to 4 individually adjustable cleaning programmes
for an easily and quickly available cleaning procedure in the ultrasonic device and reproducible cleaning

Practical, configurable functions
like the limit temperature for temperature-sensitive processes and parts, the auto-degas mode for automatic degassing and the auto-start mode for automatic heating of the cleaning liquid before cleaning

5 ultrasonic cleaning modes for best cleaning results and easy sample preparation
• degas: Quick degassing of freshly prepared cleaning solutions and of (HPLC) samples
• eco: For gentle cleaning with quiet operation and for a longer service life of the ultrasonic cleaning device
• sweep: Uniform distribution of the ultrasonic power for most cleaning tasks
• pulse: Removes even stubborn contaminations through a pulsating sound field distribution
• dynamic: Combines the ultrasonic modes pulse and sweep to increase the overall cleaning performance

Clear, easy-to-read display
showing all relevant cleaning parameters e.g. remaining cleaning time, set/actual temperature for precise adjustment

Acoustic and visual feedback on the operating status
e.g. at the end of cleaning or when the set limit temperature is exceeded

Suitable accessories such as inserts, holders, noise protection boxes, etc.
facilitated cleaning and ensure quieter operation

Industry-specific cleaning chemistry
is ecologically and economically optimised.