Meet Olivia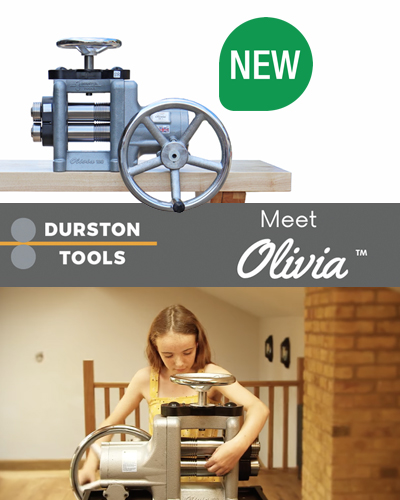 NEW! Rolling Mills with 50:1 reduction.


Combi and Flat Rolling Mills Durston Olivia


The new Olivia rolling mills from Durston with a new patent-pending design and a 50:1 reduction gearbox that makes it even easier to operate.
Advantages of "Durston Olivia":


• Apart from the obvious 50:1 gearbox making it that much easier to roll out material.
• Now you can sit down using a Rolling Mill. – or stand up. Whatever you prefer.
• Great for people with bad backs, disabilities, or those who find it difficult to move around or stand up for long periods.
• Great for shorter people or for those who find long reach arm movement difficult.
• Increased productivity. Now you can move from the bench to Rolling Mill without standing up and moving across the room.
• More compact. All one unit without the need for additional turning space.
• Now you can place your Rolling Mill anywhere along the bench to suit you. No need to place it at the end.
• Smoother operation for a better-rolled product.
• Great for Roller printing as more tension can be applied.