Mela-Soft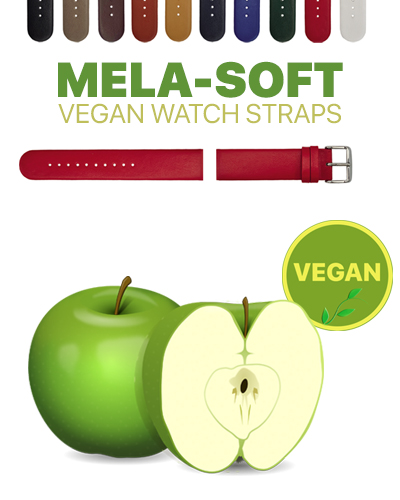 Vegan watch straps made from apple fibres
Our watch bands novelty:
"Mela Soft" - Vegan watch straps made from apple fibres.
Gebrüder Boley is pleased to present our latest product innovation:
Vegan watch straps made from apple fibres
. The remains of the apples (pomace) are dried and ground until a very fine powder is produced. In order to create a leather alternative, the powdered apple residues have to be applied to a thin layer of fabric that has been coated with a mixture of solvent and plastic. The production process is as resource and environmentally friendly as possible, and the pomace is a waste product of the apple that is recycled.
Apple straps are amazingly similar to classic leather straps in terms of quality, look and feel. They are
water repellent, weather resistant, abrasion and tear resistant and are characterised by a high level of resistance
. All apple bands bear the imprint "apple fibre" and come with a high-quality buckle in jasp steel.
The bands are available in eight colours and in four (straight, not tapered) widths: 14/14, 16/16, 18/18 and 20/20 mm.