Training offensive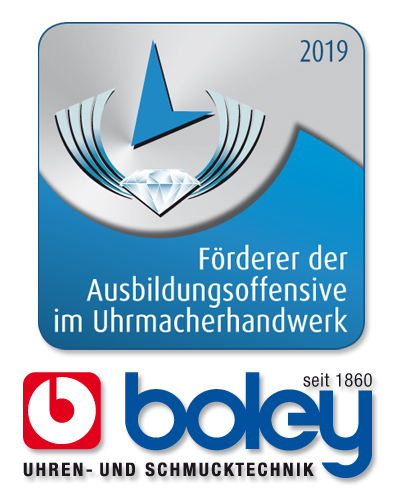 Gebrüder Boley supports ZV training offensive
The Zentralverband für Uhren, Schmuck und Zeitmesstechnik (ZV) under its President Mr. Albert Fischer and Managing Director Mr. Horst Eberhardt has been committed to the next generation of watchmakers for many years.

Starting in the new apprenticeship year (beginning: 01.08.2019), Boley is honoring this commitment in a special way by providing participating companies with vouchers for online purchases at www.boley.de. The maximum grant per training company is EUR 900.00 and is spread over three years of training.

Boley grants this financial support to member companies of the ZV or a guild affiliated to the ZV with a maximum of ten workshop employees. The Boley company hopes that this step will promote the watchmaking trade through the ZV, which would like to put the presentation of the watchmaking profession in the public eye back into the focus of young people. At the same time, this support aims to relieve the financial burden on training companies by enabling them to obtain free training equipment from Boley in the future.

Further information about this training offensive can be obtained from the ZV at www.zv-uhren.de, keyword: Ausbildungsförderung durch Gebrüder Boley.