Gravograph M20 V3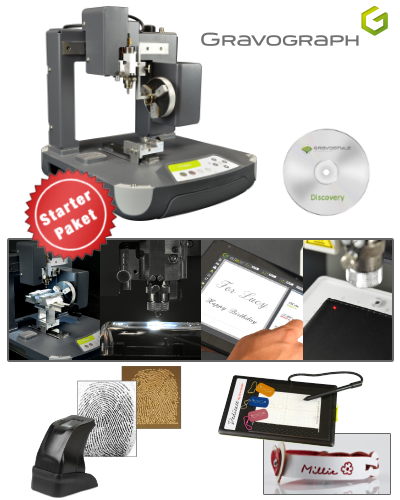 Modular engraving solution of the latest generation!
Starter packages "Standard" and "Jeweller" to the new engraving system M20V3
Save up to 15% on Starter Packs vs. individual Compilation.
The new compact M20 V3 engraving machine is the ideal solution for jewellery, engraving plates and personalization. Thanks to the modular design, the engraving machine can be adapted to your needs. More power through increased engine power with improved stability and ergonomics, ensuring optimal engraving results.
Characteristics:
• Modular design, modern design
• Various extensions can be retrofitted at any time
• More volume: Z-axis up to 100 mm
(also for large objects)
• Self-centering vise
• Automatic Z positioning
• Point & Shot: engraving positioning by laser pointer
• Gravure simulation by laser pointer
• Illuminating LED work area
• Interface: USB and Bluetooth
• Tablet option
• Diamond or milling engraving
• Large selection of engraving tools
Package compilation:
• Engraving machine M20V3 jeweler No. 689075
• Gravostyle 8 Discovery Software No. 689062
• FontPack 3 (package of 105 fonts) No. 689059
• Starter package TwinCut milling cutter incl. tool holder No. 689076
• 3-pack TwinCut cutter inserts 0.50mm No. 689077
• Engraving diamond spindle attachment No. 690045