Back to School Promo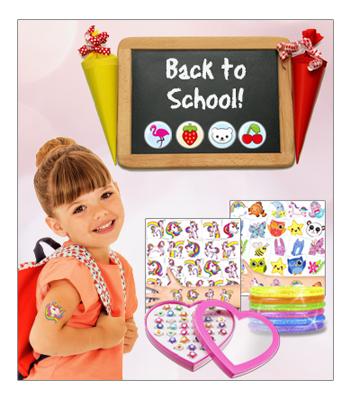 For our smallest customers with ear piercing.


Also this year we start again for our smallest customers with the ear piercing promotion "Back to School"!

Order 3 VPE (á 6 pieces) Bonflair Silence 75 ear studs - freely sorted according to your choice - and receive one of the three following special offers FREE of charge:


Ear Stud Cosmeticum (content 25 pieces)


Glitter - Tatto Set consisting of:
6x glitter bracelets
3x 12 Tattoo Sets "Unicorn
3x 12 tattoo sets "Fun


36x Children Glitter Rings in Heart Shape Case


Boost your ear stud business further:
Use poster advertising to draw attention to the child-friendly and gentle ear piercing in your business. The hypoallergenic earrings for children provide a safe feeling. Reward the "brave" little customers with glitter rings, children's tattoos, bracelets or a "FLAMINGO" timetable to Back to School! Make the ear piercing an experience for the child, so that it remembers you positively later and remains a loyal customer.