0% Mercury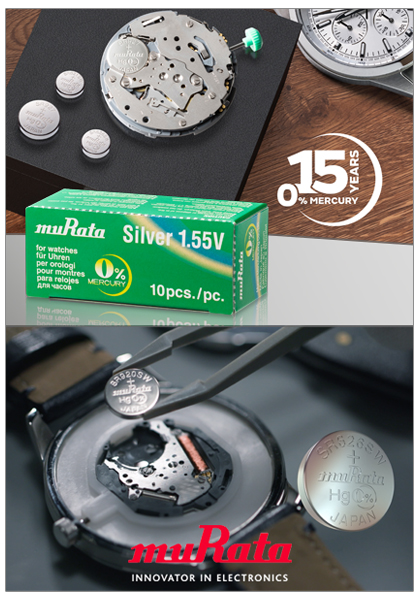 Murata celebrates its 15th anniversary.


Murata celebrates 15 years of the world's first mercury-free battery?
Murata is celebrating 15 years of mercury-free watch battery production at its battery business unit. Mercury is an environmental pollutant and very harmful to flora, fauna and ecosystems. It is also harmful to human health and puts developing foetuses and young children particularly at risk.
In 1977, Murata startet the production of silver oxide batteries and in 2004, the world's first mercury-free button cell was invented, with mass production commencing in 2005. To date, Murata has produced over 4 billion mercury-free silver oxide micro-batteries, saving 3,200 kg of mercury from potentially leaking into the environment from spent batteries.
Murata is widely recognised by major watch brands as the manufacturer with the world's highest market share in watch batteries. The entire Citizen group, for example, relies on Murata button cells as original equipment. With Sony's withdrawal from the battery business, Murata established itself as an independent battery brand in 2019 in the micro battery market.
Murata also manufactures a wide range of electronic components, including capacitors and sensors, and is the world leader in Bluetooth™ and WiFi™ modules. Murata was founded in Japan in 1944.